Posudzovateľ: Kevin Young, UK
Bobtail
PSY– TRIEDA MLADÝCH
VD1 Arthur Hailey Shaggy Edition (o: Aryakas Cosmo Junior m: Barking Bobby´s Puppet Shania Twain, ch + m: Jamborová Eleonóra)
PSY– TRIEDA STREDNÁ
VD1 Memory of Endless Love by Silver Whirlwind (o: Lamezadottel Quicksilver m: Jagged Ice Made by Silver Whirlwind, ch + m: Varga Györgyi)
VD2 Armando Bears of Love (o: Aryakas Callipous m: Rozalia Kudlaty Tramp, ch: Garai Ján, m: Gluchová Renáta)
PSY– TRIEDA OTVORENÁ
V1, CAC, VŠV, BOB Manrose Plaisir D´Amour (o: Manrose Power of Love m: Manrose Spirit of Ecstasy, ch: Romy Imholz & Manfred Bruhin, m: Szászi Károly & Manfred Bruhin)
PSY – TRIEDA ŠAMPIÓNOV
V1, CAC Usmiechnety Drab Kudlaty Tramp (o: Aryakas Cosmo Junior m: Rashn Feiri-Teil Yulita, ch: Rostworowska Krystyna, m: Wittich Katarzyna)
SUKY– TRIEDA OTVORENÁ
V1, CAC Shaggy Blue Bob´s Jazz at Kaynara (o: Bahlamb´s Beaming Blue Beard m: Shaggy Blue Bob´s Chart Breater, ch: Semmelroth A & G, m: Plichtová Silvia)
SUKY – TRIEDA ŠAMPIÓNOV
V1, CAC, VŠV Familytree Girl Talk (o: Symmetry´s Supreme Legacy m: Fuzzyacree Havenhues Sara Lee, ch: Danna C. Bankovskis, m: Pekárová Erika)
V2, res. CAC Barking Bobby´s Shania Twain (o: Bugaboo Big Puff Daddy m: Barking Bobby´s Puppet on the String, ch: Antl Elisabeth, m: Jamborová Eleonóra)
Bearded collie
PSY – TRIEDA DORAST
VN1, BIS PUPPY City Slicker Kasiterit (o: My Way Miner´s Lake m: Dea-Dro My Fair Lady, ch: Mikšiková Monika, m: Bilá Katarína & Pilná Monika)
PSY – TRIEDA MLADÝCH
V1, CAJC, VŠVN, BIS JUNIOR Honeytaste Hotter Than Hell (o: Woolpack´s Quality Zweet m: Beardmarket´s Quite a Lady, ch: Ullatti Marie, m: Meleková Zdenka)
V2 Boomer Kasiterit (o: Indián od Emy Destinové m: Dea-Dro Kasiterit Mona, ch: Mikšiková Monika, m: Smyčka František)
V3 Black Jack Kasiterit (o: Indián od Emy Destinové m: Dea-Dro Kasiterit Mona, ch: Mikšiková Monika, m: Brisudová Denisa)
PSY – TRIEDA STREDNÁ
V1, CAC Black Cooper Encore (o: Firstprizebears Enfield m: Black Cooper Bee Gees, ch: Pásztóová Blanka, m: Pásztóová Blanka & Varga Róbert)
VD2 Quissac Fawn Vanilka (o: Natterjack Jay Kay m: Spice of Life Chatterbox Caprice, ch: Volková Dana, m: Smyčka František)
PSY – TRIEDA OTVORENÁ
V1, CAC Amber Jet Anarinya (o: Clan of Stork´s Fabergé m: All About Me Kiaora, ch: Náplavová Lucie, m: Macháčková Pavla)
PSY – TRIEDA ŠAMPIÓNOV
V1, CAC, VŠV, BOB, BIS Black Cooper Del Dorado (o: Double Scotch Black Man in Black m: Black Cooper Bee Gees, ch: Pásztóová Blanka, m: Pásztóová Blanka & Varga Róbert)
V2, res. CAC Love Magic Vanilka (o: Moonhill´s Four Wheel Drive m: Siggans Felicia, ch: Volková Dana, m: Kopečná Nikola)
V3 Clan of Stork´s Fabergé (o: Heathermist Everybody´s Business m: Clan of Stork´s Champagne, ch: Marja Ojevaar, m: Jurášková Lubomíra & Náplavová Lucie)
V4 Bearded Szabó Belix Fawn (o:Balza Black Aladin m: Charlie´s Angel About Jane, ch: Szabóová Gabriela, m: Pohlová Viera)
PSY – TRIEDA VETERÁNOV
V1, BIS VETERÁN Benedikt Vanilka (o: Natterjack Jay Kay m: Wanda Black Vanilka, ch: Volková Dana, m: Kopečná Nikola)
SUKY – TRIEDA DORAST
VN1 Can´t Say No Kasiterit (o: My Way Miner´s Lake m: Dea-Dro My Fair Lady, ch: Mikšiková Monika, m: Görcs Ladislav)
VN2 Claudine Kasiterit (o: My Way Miner´s Lake m: Dea-Dro My Fair Lady, ch: Mikšiková Monika, m: Hrdinová Jana)
SUKY– TRIEDA MLADÝCH
VD1 Baby Face Kasiterit (o: Indián od Emy Destinové m: Dea-Dro Kasiterit Mona, ch: Mikšiková Monika, m: Nikodýmová Hana)
SUKY – TRIEDA STREDNÁ
V1, CAC Espoir Kasiterit de Chester (o: Attila de Chester m: B Comme Bardot de Chester, ch: Jean – Paul Bernardi, m: Pilná Monika)
VD2 Jasira Cameron of Windmill (o: Necessity Burton m: Stormy Corner Black Ice Queen, ch : Upor Edit, m: Várkúti Ágnes & Upor Edit)
D3 In Name of Love Kiaora (o: Ramsgrove Rumba m: Desert Gold Kiaora, ch: Folget Klímová Lenka, m: Jurášková Lubomíra &Folget Klímová Lenka)
SUKY– TRIEDA OTVORENÁ
V1, CAC, VŠV Z´Belong to You Kasiterit (o: Dea – Dro Look It´s Me m: Dea – Dro Kasiterit Mona, ch: Monika Mikšiková, m: Horvath Gabriela)
VD2 Dreamy z Vilete Bohemia (o: Strike it Rich at Ramberhay m: Ascher z Vilete Bohemia, ch: Kratochvílová Alena, m: Nikodýmová Hana)
D3 Qurina du Chateau du Lac (o: Spirit of Caledonia of Course m: Jade du Chateau du Lac, ch: Hauch Silvia & Harald, m: Smětákovi Anna & Pavel)
SUKY– TRIEDA ŠAMPIÓNOV
V1, CAC Angel Face Anarinya (o: Clan of Stork´s Fabergé m: All About Me Kiaora, ch + m: Náplavová Lucie)
V2, res. CAC Jasná zpráva od Emy Destinové (o: Scottsdale Never Say Never m: Estráda Od Emy Destinové, ch: Vazdová Pavlína, m: Pohančíková Lenka)
SUKY– TRIEDA VETERÁNOV
VD1 Bambina di Black Panas (o: Westmilwunda Starlight Xpress m: Amanda Tři Koberle, ch: Smětáková Anna, m: Smětákovi Anna & Pavel)
SÚŤAŽE
Najkrajší pár – Border collie
Lucky For You Broadway & Alla Diamond Dream of Joy
Report rozhodcu
JUDGING BEARDED COLLIE, BORDER COLLIE AND OES
IN SLOVAKIA
KEVIN YOUNG
I WOULD LIKE TO THANK KATARINA, BLANKA AND THE COMMITTEE OF THE CLUB FOR THE INVITATION TO JUDGE BORDER COLLIE, BEARDED COLLIE AND BOBTAILS.
THE HOSPITALITY WAS VERY GOOD WITH MY GRATEFUL THANKS TO KATARINA AND TOMAS FOR LOOKING AFTER ME ON MY STAY IN SLOVAKIA.
THE QUALITY OF THE DOGS WERE VERY GOOD ESPECIALLY THE BEARDED COLLIE AND BOBTAILS.
THE BEARDED COLLIE'S I JUDGED WERE OF GOOD QUALITY AND LOVELY BREED TYPE, MY MAIN WINNERS IMPRESSED ME. MY BEST OF BREED AND BEST IN SHOW WINNER IS A SUPER MALE THAT COULD WIN IN THE UK. HE WAS PRESSED HARD BY THE SECOND PLACE BROWN MALE IN HIS CLASS WHO IS ALSO A LOVELY SPECIMEN OF THE BREED. BOTH THESE DOGS CAN CERTAINLY MOVE. MY BEST BITCH WAS PRESENTED IN LOVELY CONDITION AND HAVING STYLE AND SUPER BREED TYPE. I WAS DELIGHTED WITH THE PRESENTATION OF ALL THE BEARDED COLLIE'S ONLY ONE OR TWO LACKED A LITTLE BODY WEIGHT.
I ONLY HAD A FEW BOBTAILS TO JUDGE. ALL THESE DOGS WERE PRESENTED IN EXCELLENT CONDITION AND A LOT OF HARD WORK TO KEEP THESE DOGS IN SUPER COAT PRESENTATION MY BEST OF BREED WAS OUTSTANDING A SUPER MALE TO GO OVER. THIS DOG COULD COMMAND ANY RING IN ANY COUNTRY.
THERE WERE TWO BORDER COLLIE'S THAT APPEALED TO ME WHICH WERE MY BEST MALE AND BEST BITCH. I LIKED THE SOUNDNESS AND CONSTRUCTION OF THE MALE WHO WAS BEST OF BREED AND PRESENTED IN LOVELY COAT AND CONDITION. I WAS INFORMED THE BITCH WAS FROM THE UK. A LOVELY FEMININE BITCH WITH SO MUCH STYLE AND RING PRESENCE. I FEEL THERE NEEDS TO BE SOME WORK DONE ON THIS BREED TO HELP THIS BREED ALONG.
AND LASTLY I WOULD LIKE TO THANK ALL THE EXHIBITORS WHO ENTERED UNDER ME I HAD A WONDERFUL TIME IN SLOVAKIA AND HOPE I CAN VISIT ONCE AGAIN I THE FUTURE.
Životopis rozhodcu.
I STARTED SHOWING BEARDED COLLIE'S IN 1974 UNDER THE SUNKAP AFFIX, MAKING UP SEVERAL UK CHAMPIONS, ALSO BREEDING CHAMPIONS IN AMERICA, SWEDEN AND IRELAND.
I HAVE ALSO HAD SOME SUCCESS IN OTHER BREEDS SUCH AS BOXER, ROUGH COLLIE AND BULLMASTIFF.
MY JUDGING CAREER STARTED IN 1981 WITH JUDGING A FEW CLASSES OF BEARDED COLLIE AND THEN EVENTUALLY JUDGING OTHER BREEDS WITHIN THE WORKING AND PASTORAL GROUPS. MY FIRST CHAMPIONSHIP APPOINTMENT WAS IN 1987 AT BELFAST CH SHOW WHEN I JUDGED BEARDED COLLIE. THE HIGH LIGHT OF MY JUDGING CAREER WAS WHEN I JUDGED BEARDED COLLIE AT CRUFTS IN 2001
I NOW JUDGE BEARDED COLLIE, ROUGH COLLIE, BORDER COLLIE, SMOOTH COLLIE, SHETLAND SHEEPDOG, OLD ENGLISH SHEEPDOG, BELGIAN SHEPHERDS, POLISH LOWLAND,
NORWEGIAN BUHUND, PEMBROKE CORGI, PYRENEAN MOUNTAIN DOG, LANCASHIRE HEELER,
BOXER, SIBERIAN HUSKY, BULLMASTIFF AND DOBERMANN.
I HAVE JUDGED IN NORWAY, DENMARK, SWEDEN AND SLOVAKIA AND I NOW LOOK FORWARD TO VISITING AMERICA IN 2011 AND FINLAND 2012.
I HAVE BEEN INTERESTED IN ORGANISING DOG SHOWS OVER THE LAST 25 YEARS WHILE SERVING AS SECRETARY OF THE NORTH EAST OF ENGLAND WORKING AND PASTORAL BREEDS WHICH HOLDS TWO SHOWS IN NEWCASTLE TWICE A YEAR. I AM ALSO ON THE COMMITTEE OF THE SCOTTISH KENNEL CLUB.
MY TIME IS ALSO TAKEN UP WITH ORGANISING SEMINARS FOR BREEDS WITHIN THE WORKING GROUP FOR THE ENGLISH KENNEL CLUB, THESE SEMINARS ARE FOR UP AND COMING JUDGES.
Sponzori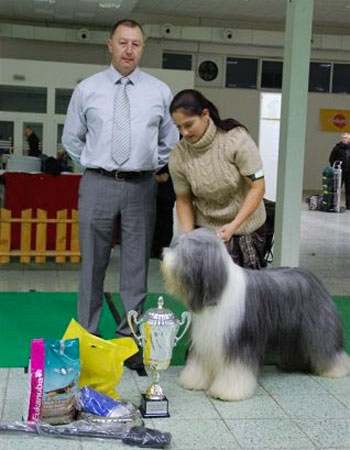 BIS Black Cooper Del Dorado, 
maj.: Pásztóová B. & Varga R.